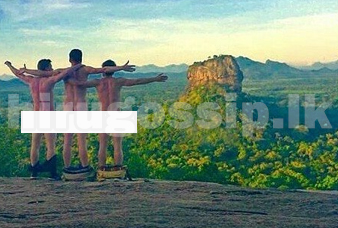 Photographs circulating on social media with semi-naked youth seated on top of the Pidurangala rock at the historic – Sigiriya – Pidurangala Raja maha temple has raised concerns among religious leaders and officials.


Archaeologists noted that this was inappropriate, as the location was considered sacred. Ththatnoted tha  Sigiriya was a fortress and Pidurangala was a Buddhist monastery for attained monks.


In addition to this, the location is significant as It is also believed that the author of the Mahavansa, lived in Pidurangala and the location was known as the ancient, Diksanda Seneviyaa Pirivena.
The Chief Incumbent of the Pidurangala Raja Maha Viharaya, Ven. Dr. Dhaniyagama Ananda Thera noted that legal action should be taken against those who published the photographs denigrating the location.


President of the Sinhale Api National Organization, Ven. Jamburewela Chandraratana Thera noted that a comprehensive investigation should be conducted.